About shipping
Finished vehicles (stacking)
Vessels used: Conventional vessels, RO-RO vessels, and other tramp vessels We use the empty space in the backs of trucks for shipping. With the shipping company's permission, we stack and package cargo for shipping. This enables our customers to save on ocean freight charges for trucks loaded on the upper level.
SKD(Semi-Knock Down)/CKD (Complete Knock Down)
Vessels used: Container ships (scheduled service) This shipping method maximizes the use of ocean containers' limited space, and trucks that do not fit into containers in their finished state are manually disassembled and loaded for shipping. The advantage of this method is that more trucks can be transported in the form of parts than can be loaded into containers in the form of complete vehicles. This form of shipping requires assembly at the unloading location.
About CKD
Vehicles are disassembled into components and assembled on-site. CKD requires welding, painting, outfitting (including for car seats, instrument panels, dashboard installation, etc.), and other work. These are called KD vehicles (knock down vehicles).
About SKD
Vehicles are disassembled into components, but unlike CKD, they can be assembled by simple processing such as merely tightening bolts. These are called KD vehicles (knock down vehicles).
Front cut
Vessels used: Container ships (scheduled service) Like CKD, front cut employs containers for shipping. Unlike CKD, this method is mainly used for shipping trucks used to pick up parts. Main parts shipped: Front cut (cut from the cab rear with the engine, transmission, propeller shaft, undercarriage, fuel tank, tire wheels, etc.)

We ship only the necessary parts by performing a disassembly procedure according to the customer's request.
Initiatives on trucks to be disassembled and shipped
To make it easy to identify which truck parts are to be used in on-site assembly, removed parts are marked with water-based markers. To the extent possible, we disassemble trucks by hand so that they can be sold in a more attractive condition as vehicles at the destination. If cutting with gas is unavoidable, we will obtain the customer's confirmation before performing the work. In accordance with Japan's Act on Recycling of End-of-Life Automobiles, we remove and dispose of CFC gas and air bags from trucks that are shipped by dismantling operations prior to shipping.
Export procedure flow
The exporter and importer conclude a sales agreement.
Application procedures are performed. (Depending on the type of cargo, the approval, permission, or an inspection by various authorities may be required before making an export declaration to customs.
Booking is made with the shipping company.
Cargo is brought into the bonded area.
Products are inspected for quality, packaged for export, and then imprinted with a shipping mark before being brought in ready for export.
Customs procedures are performed.After export approval, the cargo:a. is packed into containers and sent to the bonded area.
Smaller shipments (less than a container load) are mixed with other shipments, packed into a container, and then sent to the bonded area.
The customs broker prepares and submits the shipping documents (D/R, CLP, etc.) to the shipping company.
After the ocean freight is paid, the shipping company issues a bill of loading (B/L).
After the cargo has been shipped, the exporter sends the importer an invoice, B/L, and other documents as shipping advice.
Shipping track record (port names in parentheses)
We have shipped to the following countries: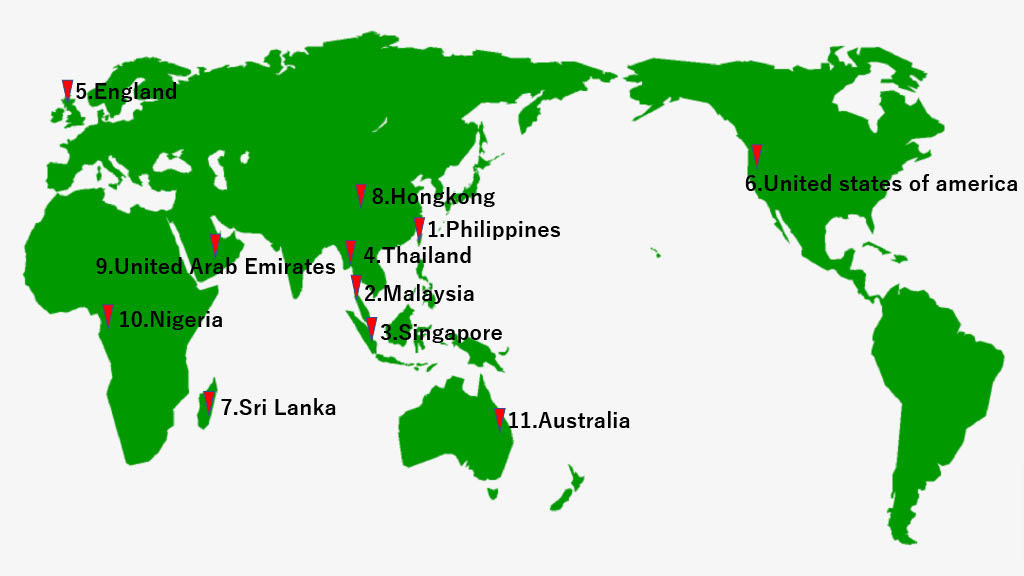 1. Philippines (Manila, Subic Bay, Cebu etc)
2. Malaysia (Port Klang, Penang)
3. Singapore
4. Thailand (Bangkok, Laem Chabang)
5. England (Southampton)
6. United states of america (Los Angeles)
7. Sri Lanka (colombo)
8. Hong Kong
9. United Arab Emirates (Jebel Ali)
10. Nigeria (Lagos)
22.Australia (sydney)